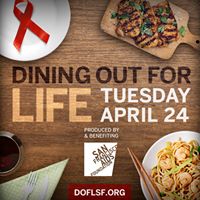 San Francisco AIDS Foundation DINING OUT for LIFE
One Market Restaurant is proud to participate in Dining Out for Life 2018. A percentage of our sales on Tuesday, April 24 will be donated directly to Dining Out for Life. All proceeds directly support the San Francisco AIDS Foundation.
The foundation's mission is to end the transmission of HIV in San Francisco and improve access to care through education, advocacy, and direct services in communities most vulnerable to the disease. They are proud to offer all of their programs at no cost to their clients through the generous support of our many community partners and individual donors. For more information, go to www.sfaf.org.