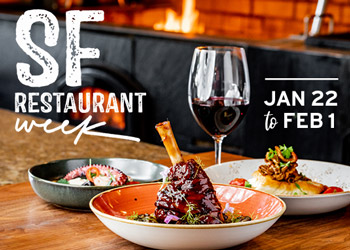 SF Restaurant Week begins Wednesday, January 22nd…
…and ends Friday, January 31. But at One Market Restaurant we're continuing through Saturday, February 1! In addition to the $25.25 two-course lunch menu and $40.40 three-course dinner we're also offering a "deluxe" dinner menu for $65.65 that features our New York Steak and Pan-seared Red Snapper. SF Restaurant Week is one of the most popular promotions of the year so be sure to book your table soon.
Take a look at our SF Restaurant Week menus here and reserve your table here.