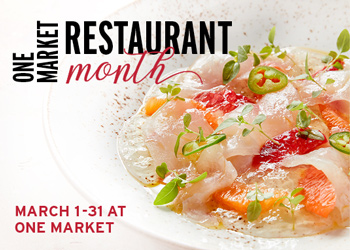 If You Liked SF Restaurant Week, You'll Love Restaurant Month!
We heard from so many of our friends during Restaurant Week in January that they wished it were available other times of the year and we agree! Throughout the month of March we'll be offering a special two-course lunch for $25 (add a Singular Sensation dessert for 4.95) Monday through Friday and a three-course dinner for $39 and $59 Monday through Saturday nights. Great food, great drink, great value and live music nightly including the Billy Philadelphia Trio on Saturdays, here, at One Market Restaurant.
Take a look at our Restaurant Month menus here and reserve your table here.